"
Ingredients:
200g Brie au Bleu ILE DE FRANCE®
1 rolled sheet of puff pastry
250g raw fresh salmon
1 leek
2 eggs
30g butter
20cl whole whipping cream
Preparation:
A balanced meal | Inexpensive meal
Peel, chop and wash the leek. Drain in a sieve, then cook in a saucepan on a medium heat for 10 mins with butter, salt and pepper.
Preheat oven to 180°C (thermostat 6).
Cut 2 generous slices of Brie au Bleu ILE DE FRANCE® then cube the remainder. Cut the salmon into small pieces. Beat the eggs in a bowl with cream, salt and pepper.
Line 4 small pie dishes with the pastry.
Spread the simmered leeks, the Brie au Bleu ILE DE FRANCE® cubes and salmon over the base of the pie dishes. Pour over the cream, then place ½ a slice of Brie au Bleu ILE DE FRANCE® on top.
Bake the tarts in the oven for 20-25 mins. Remove the tarts from the oven and allow to cool slightly before serving.
Discover our Brie au Bleu 125g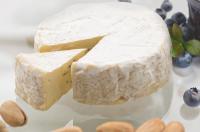 With its subtle blue hint, Ile de France Brie au Bleu is the perfect combination between the softness of Brie and the character of a blue cheese. A genuine soft cheese with the right taste whenever...
Read more