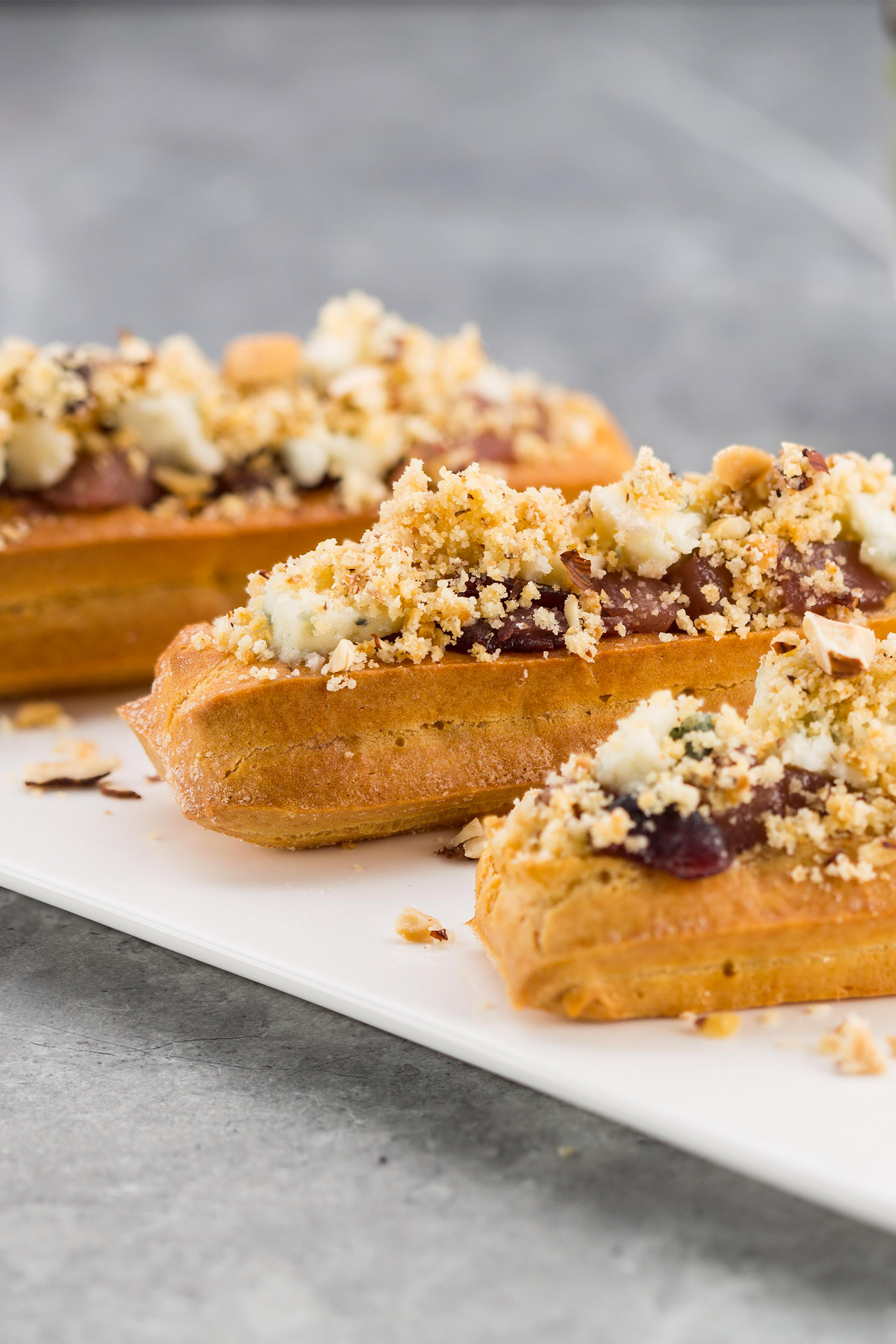 Ingredients:
For the Crumble:
35 g extra-salted butter
30 g hazelnuts
30 g flour 
10 g parmesan
2 Tbsp. hazelnuts 
For the Pear Compote:
2 pears 
20 g butter 
2 Tbsp. raisins
1.5 Tbsp. thick balsamic vinegar
1 cm grated ginger 
1 Tbsp. caster sugar
For the Choux Pastry:
96 g milk
96 g water
96 g butter
2 g salt
3 g sugar
96 g flour
180 g eggs
For the Assembly:
100 g Ile de France Roquefort 
2 tsp Sirop de Liège
2 tsp thick balsamic vinegar 
Preparation:
For the Crumble:
Put the hazelnuts into a blender bowl, chop them up quickly (into small pieces) and add the diced butter, the flour and the parmesan. 
Mix 4/5 times until you get a fine sandy mixture.
Preheat the oven to 210°C. Spread the crumble dough onto a baking tray lined with baking paper. Cover the sides with hazelnuts. 
Bake for 15-20 minutes until the dough becomes golden-brown.
For the Pear Compote:
Peel the pears and dice them. 
Heat some butter in a frying pan, add the pear dices, the raisins, and the grated ginger.
Fry for 5 minutes, add the caster sugar, stir and fry for 5 minutes.
Finally, pour the balsamic, mix well to coat the pieces of pears.
For the Choux Pastry:
Bring the water, milk, salt, sugar, and butter to a boil in a saucepan. 
Remove from the heat and add the flour. 
Mix and put back on the heat until the mixture comes off the sides of the saucepan (~ 1 minute). Mix the dough.
Add the eggs one by one mixing quickly. Make sure to add the next one only when the previous one has been completely incorporated into the dough. 
Use a piping bag (1 cm in diameter) to form 5/6 cm strips of dough, spaced apart on a baking tray lined with baking paper. 
Using a wet fork, lightly scratch the top of the éclairs over their entire length so that they rise evenly. 
Heat the oven to 250°C. 
Once the oven is hot, put the tray into the oven and turn it off for 12 to 16 minutes.  Then, when the dough begins to rise, turn it on again at 160°C for about 20 minutes (do not open the oven door while baking).
Let the éclairs cool down.
For the Assembly:
Use a saw knife to cut off approximately 2/3 off the top of each éclair.
Pour a teaspoon of compote onto the bottom of each éclair. 
Crumble some Ile de France Roquefort with a fork or with your fingers and place it on top of the pears, sprinkle with crumble. Add crushed roasted hazelnuts. 
Put the Sirop de Liège in a small bowl, heat it up lightly so that it becomes more liquid, and add the balsamic. Sprinkle a few drops on top of each éclair.