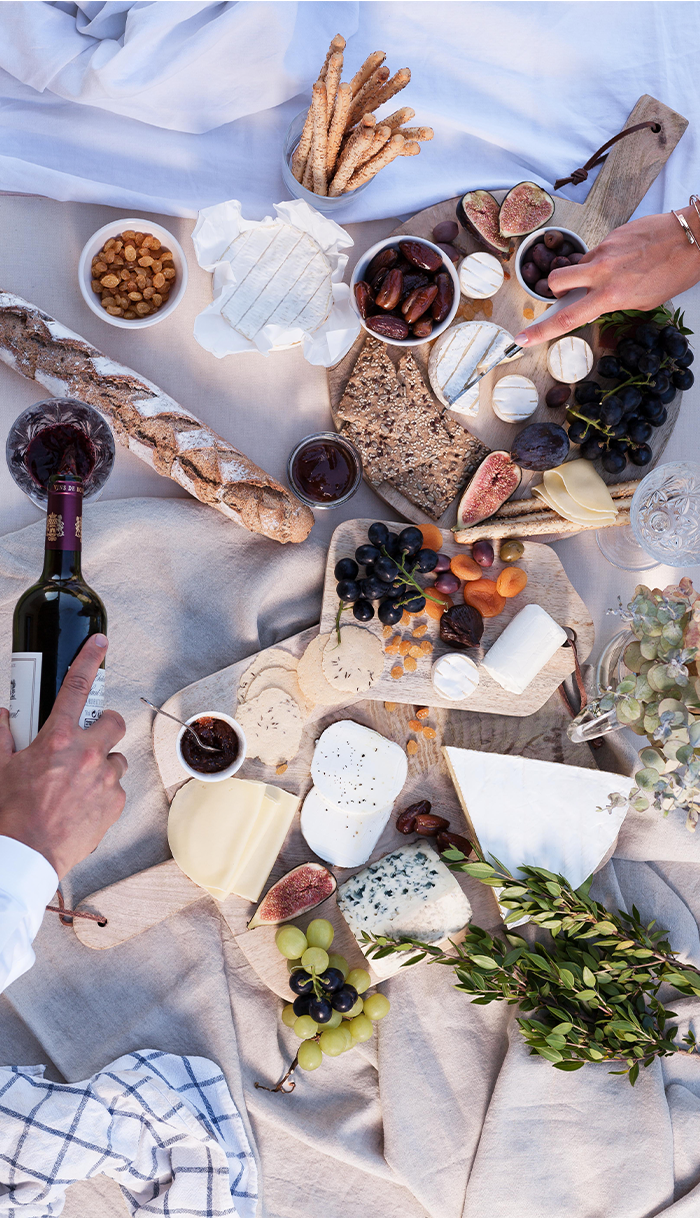 Okay, so you have a perfect night all planned out.
The smell of a delicious meal is coming from the kitchen, beautiful flowers and decorations are set, the lights are dimmed, and you may even have a fireplace going to set the mood…But then you stop, and realize that every magical night starts or ends with a stunning cheese platter and some wine. Now what?
Don't worry – we got you! This is the ultimate guide to wine and cheese pairings, so bookmark this page and read away…
Pro tip #1: For a blissful relationship between your cheese and wine, always think about geography: products from the same area match perfectly. So when you grab your Ile de France cheese, think French wine!
Pro tip #2: Sweet white wines and reds go best with strong cheeses, while dry whites are best paired with soft cheeses. Remember, white wine generally goes better with cheese.
Now that we got the basics down – let us dive in even deeper!
Type of cheese: Ile de France Camembert and Brie
Wine pairing: Well, you have a few options here. You can go with a nice fruity red (not too tannic or woody) or even Champagne! Really just depends on what you like more.  So when you get to the store and grab your Ile de France Brie or Camembert, look for a rich Burgundy from the Côte Chalonnaise, the Côte de Beaune, Pomerol, or Saint-Émilion or a nice bottle of bubbly (especially a young Blanc de Blancs).
Type of cheese: Ile de France Roquefort
Wine pairing: Always go with white wine! A sweet Sauternes, or Jurançon, is your best bet because these wines bring out the natural flavor of the cheese, creating a sweet and savory balance to soften the cheese's sharp tang.
Type of cheese: Ile de France Slices
Wine pairing: Ile de France Slices are a good match for fruity red wines that are neither too tannic nor woody, such as a Burgundy. Here is a fun fact, you can even match Ile de France Slices with beer! Try pairing with Pale Ale or IPA.
Type of cheese: Ile de France Chèvre and Chavroux
Wine pairing: Goat cheeses (Chèvre) have a deep, grassy, intense flavor that goes well with medium bodied reds – so go with a Cabernet Sauvignon or maybe even a Sauvignon Blanc.
Follow us on Facebook and Instagram for more tips and tricks!