Mini Rolls 110 g (5 X 22 g)
Snacking
Ile de France Mini Rolls is a wholesome and savory snack, made of a truly unique natural cheese, cut in two ultra-thin rolled slices.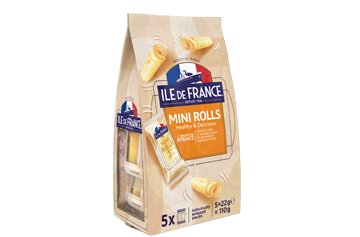 Place of manufacture:
Nouvelle-Aquitaine, Busseau-sur-Creuse
Flavour profile:
Ile de France Mini Rolls have an ultra-aromatic flavour thanks to its carpaccio effect.
Ingredient List:
Pasteurized cow's milk (origin: France), salt, cultures, rind colouring: plain caramel, beta carotene.
May contain traces of sheep's milk, goat's milk and egg white extract.