Ingredients:
300g Brie ILE DE FRANCE®
80g smoked salmon
100g fresh salmon
4 soft wheat tortillas
1 avocado
1 tbsp dill
1 lime
1 red onion
2 bunches of baby spinach
1 tbsp whipping cream
2 tbsp mayonnaise
Preparation:
Wash and drain spinach. Peel the avocado. Finely dice the Brie ILE DE FRANCE®, the two types of salmon and the avocado.
Mix the Brie ILE DE FRANCE® with the avocado and salmon.
Season the mixture with the finely-chopped onion, the dill, the lemon juice, the cream and the mayonnaise. Add salt and pepper.
Fold the wraps: spread out the tortillas, arrange the spinach leaves and spread the salmon and Brie ILE DE FRANCE® mixture into a line in the middle. Roll up the tortillas.
Eat with a salad or as an aperitif snack (cut the tortilla in half after rolling).
Discover our Brie 6.6 lbs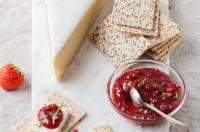 This soft-ripened cheese spreads with a milky, buttery taste, featuring a touch of mushroom and hazelnut. A generous double cream Brie made A la crème du jour.
Read more