Ingredients:
125 g of Ile de France Brie (4 ½ oz)
3 eggs
10 cl walnut oil (3 ½ fl oz)
100 g semi-salted butter (3 ½ oz)
250 g flour
1 pack of baking powder
60 g fresh cream 
10 cl milk
80 g grated cheese  
2 Pink Lady apples
Preparation:
1. Use a bowl to mix together the milk, the eggs, the cream, walnut oil and half of the melted butter.

 

2. Gradually add the flour, the baking powder, and the grated cheese. Mix until uniform.

 

3. Dice the apples without peeling and lightly brown them in a pan over low heat.

 

4. Let cool, dice the Brie into pieces the same size as the apples, and add them together into the dough.

 

5. Butter the mould and fill in ¾, then bake for about 35 min.

 

6. Let it cool down and remove from the mould. Eat warm.
Discover our Brie 4.5 oz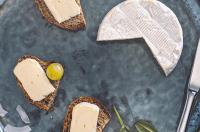 All the pleasure of a Brie in a 125g format. Ile de France Petit Brie has the right taste whenever you buy it: stable, authentic yet mild Brie flavor and an extra creamy texture with a firm heart....
Read more