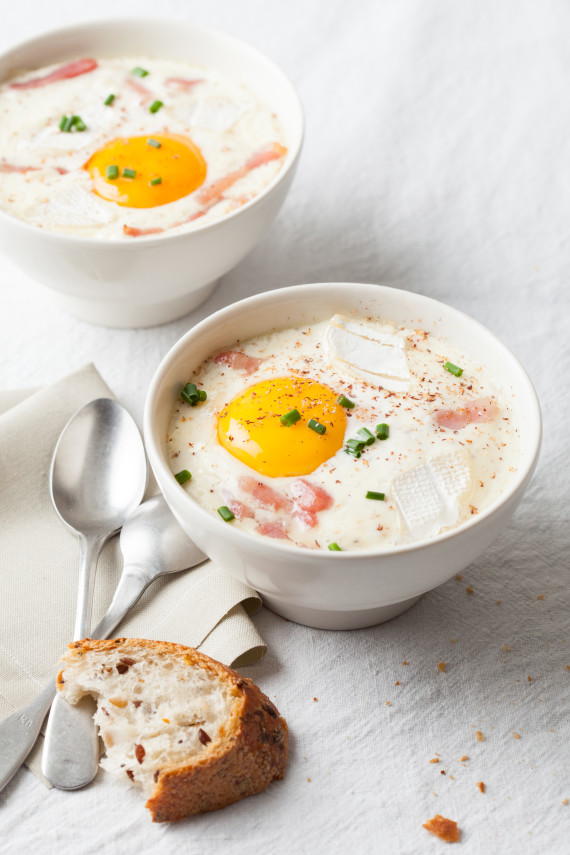 Ingredients:
4 eggs
50 g of Ile de France Brie (2 oz)
160 ml single cream (5 ½ fl oz)
80 g lardons (3 oz)
¼ tsp. nutmeg
Butter for greasing the ramekins
4 sprigs of chives
Salt & pepper
A little bread for serving
Preparation:
1. Cut the Brie into small pieces.
2. Brown the lardons for 3-4 min in a frying pan.
3. Bring the cream to boil in a saucepan with the nutmeg. Simmer for 3-4 min, allowing the cream to thicken.
4. Preheat the oven to 190 °C (375 °F).
5. Use the butter to grease the ramekins.
6. Divide the cream between the ramekins, add the Brie, a few lardons and an egg to each. Season.
7. Bake in the oven for 8-10 min.
8. Sprinkle with the chopped chives just before serving. Serve with bread.
Serving Suggestion: Enjoy at breakfast or as a starter, perhaps with a little Mesclun salad mix.
Tip: If you prefer, you can replace the lardons with button mushrooms fried in 15 g (½ oz) of butter for 5 min.
Discover our Brie 4.5 oz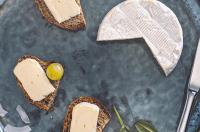 All the pleasure of a Brie in a 125g format. Ile de France Petit Brie has the right taste whenever you buy it: stable, authentic yet mild Brie flavor and an extra creamy texture with a firm heart....
Read more