Ingredients:
300 g of Ile de France Brie (10 ½ oz)
80 g smoked salmon (3 oz)
100 g fresh salmon (3 ½ oz)
4 soft wheat tortillas
1 avocado
1 tbsp. dill
1 lime
1 red onion
2 bunches of baby spinach
1 tbsp. whipping cream
2 tbsp. mayonnaise
Salt and pepper
Preparation:
1. Wash and drain spinach. Peel the avocado. Finely dice the Brie, the two types of salmon and the avocado.
2. Mix the Brie with the avocado and salmon.
3. Season the mixture with the finely chopped onion, the dill, the lemon juice, the cream and the mayonnaise. Add salt and pepper.
4.  Fold the wraps: spread out the tortillas, arrange the spinach leaves and spread the salmon and Brie mixture into a line in the middle. Roll up the tortillas.
5. Eat with a salad or as an apéritif snack (cut the tortilla in half after rolling).
Discover our Brie 13.2 oz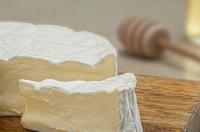 This soft-ripened cheese spreads with a milky, buttery taste, featuring a touch of mushroom and hazelnut. A generous double cream Brie made A la crème du jour.
Read more