Preparation:
Cheese and chocolate pairing is a match made in heaven! Check out our recipe for this delicious sweets with white chocolate, caramel and fresh Brie
Discover our Brie Wedge 5.3 oz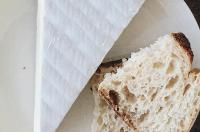 Deliciously soft and creamy, our Ile de France Brie was the first brie imported to the United State in 1936. A generous double crème Brie made A la crème du jour with notes of mushroom and hazelnut....
Read more