Ingredients:
250 g Ile de France Brie (9 oz)
1 small truffle (or truffle oil)
1 garlic clove
Rosemary sprigs
Preparation:
1. Finely cut the truffle and garlic clove.
2. Make a couple of slits on the Brie cheese and insert garlic and truffle slices (or drizzle with truffle oil) and add 3-4 rosemary sprigs.
3. Put the Brie in an ovenproof dish. Leave it at room temperature while you preheat your oven to 150 °C (300 °F). Bake for around 10 min or until the Brie is runny.
Tip: Put a sheet of baking paper under the cheese.
Discover our Brie 250 g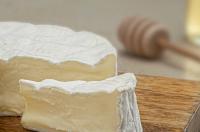 Ile de France Brie is  genuine natural soft ripened cheese. It has a creamy and mild texture with an authentic yet accessible Brie Taste with mushroom notes.
Read more