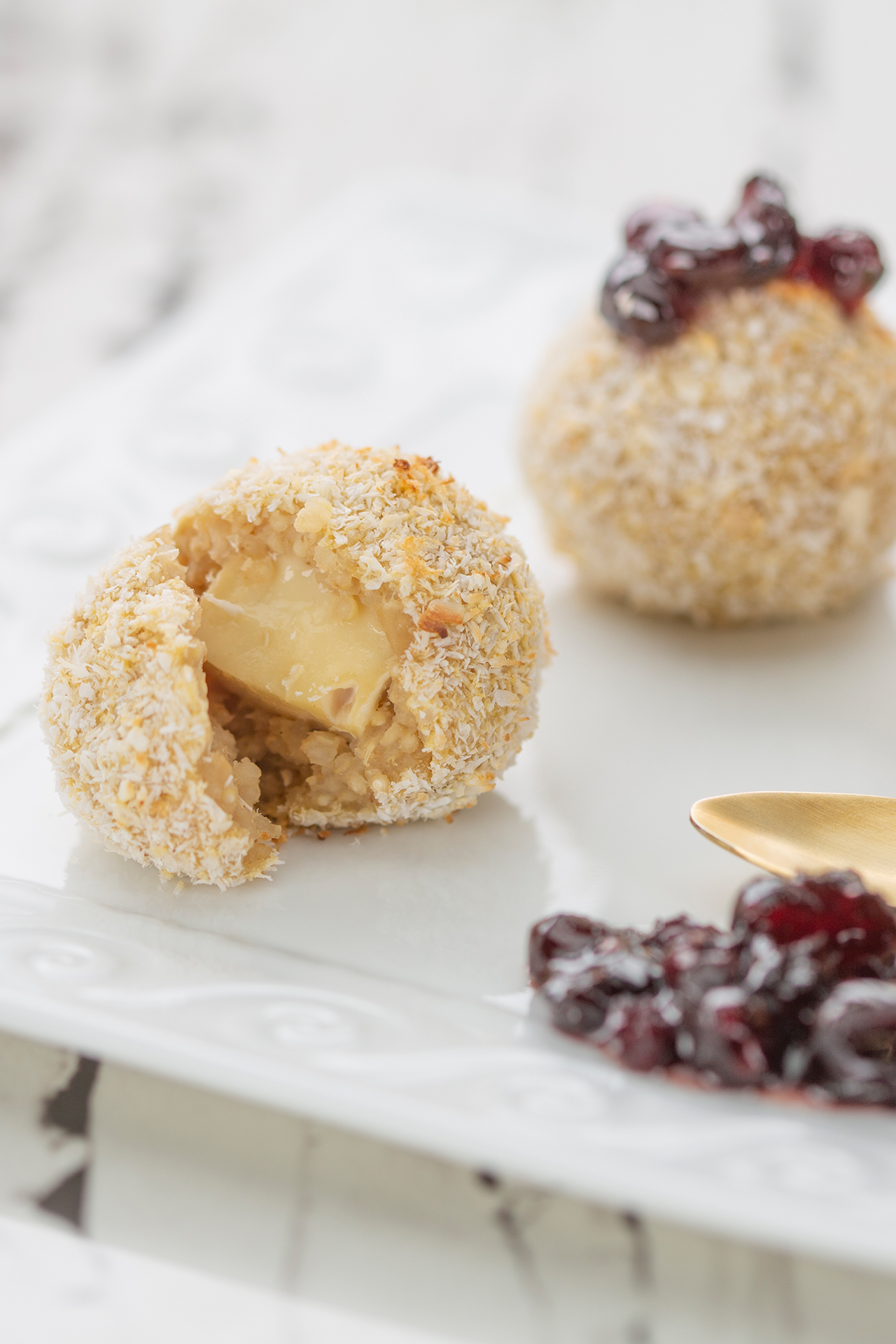 Ingredients:
For Bites:
150 g Ile de France Roquefort (5 oz), finely crumbled 
250 g Ile de France Petit Brie (9 oz), at fridge temperature
350 g cooked quinoa (12 oz)
200 g beans mashed (7 oz)
45 g breadcrumbs (1 ½ oz)
1 large egg lightly beaten
1 clove garlic grated
½ tsp. salt
½ tsp. pepper
For Coating:
2 eggs beaten
2 tbsp. coconut milk or buttermilk
2 tbsp. breadcrumbs
60 g unsweetened coconut (2 oz) 
Sweet Cranberries:
220 g fresh cranberries (7 ¾ oz)
50 g brown sugar (2 oz) 
85 g honey (3 oz) 
60 ml water (2 fl oz)
Zest of one orange
¼ tsp. pepper
Salt to taste
Preparation:
1. Add cranberries, brown sugar, honey, water and half of the orange zest to a saucepan and stir to combine. Bring to a boil over high heat, then reduce heat to medium-low and simmer for 10 min. Set aside until ready to serve.
2. Combine the quinoa, mashed beans, breadcrumbs, egg, garlic, salt and pepper. Mix well to moisten the ingredients and then add the crumbled Roquefort cheese. Mix well again and form into 28-30 equal balls. Place on a plate and put in the fridge.
3. Preheat the oven to 250 °C (475 °F).
4. Dice Petit Brie into 28-30 equal chunks. Push one chunk of Petit Brie into the middle of each ball and form the quinoa into a smooth ball making sure all the cheese is covered.
5. Place the remaining breadcrumbs (2 tbsp.), the shredded coconut and a good pinch of pepper in a shallow bowl. Add the eggs and buttermilk to another shallow bowl.
6. Dip the balls through the egg and then carefully coat them in the coconut. Place on a baking sheet lined with parchment paper.
7. Bake for 10-15 min, just until the tops of the balls begin to brown.
8. Rotate and check the balls after 8 min of baking.
Discover our Petit Brie 125 g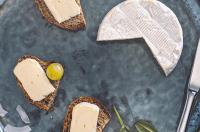 All the pleasure of a Brie in a 125g format. Ile de France Petit Brie has with the right taste whenever you buy it: stable, authentic yet mild Brie flavor and an extra creamy texture with a firm hea...
Read more