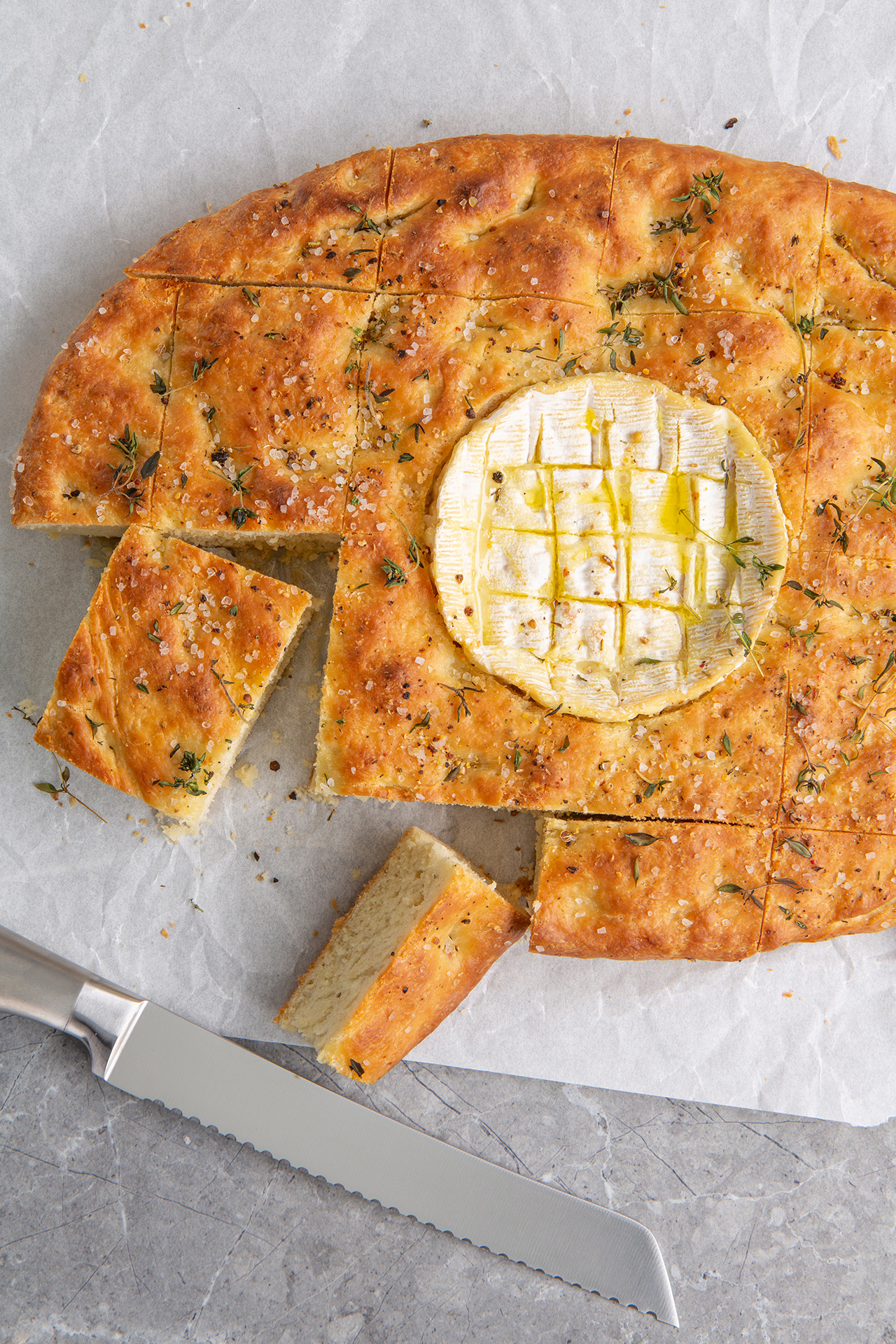 Ingredients:
125 g Ile de France Petit Camembert (4 ½ oz)
500 g flour (1 pound)
10 g sachet dried yeast (½ oz)
10 g sugar (½  oz)
7 ½ ml salt (¼ fl oz)
300 ml lukewarm water (10 fl oz)
Olive oil
Pinch of sea salt
Pinch of fresh thyme
Honey for drizzling
Preparation:
1. Place the flour, yeast, sugar and salt in a large bowl and make a small well in the middle. Slowly pour the water into the well while mixing with a fork. Mix until all the ingredients start coming together, and then knead until you have a smooth, soft dough. 
2. Lightly oil a large bowl with olive oil and transfer the dough to the bowl. Cover with a damp kitchen towel and leave in a warm place for 30 min.
3. Lightly oil a baking tray, punch down the dough and spread the dough out to cover the tray.
Drizzle with olive oil, sprinkle with sea salt and fresh thyme.
4. Leave in a warm place for 20 min and preheat the oven to 200 °C (400 °F). 
5. Bake the focaccia for 20 min until golden on top.
6. Once the focaccia is cool enough to handle, place back on the baking tray and preheat the oven to 180 °C (350 °F).
7. Carefully slice the focaccia into about 2 cm x 2 cm (0.8 x 0.8 in) squares making sure not to cut through the bottom crust. Use the Camembert wheel to cut a circle in the middle of the dough for the cheese to fit into. Remove the bread within the circle but leave a bottom of bread crust for the cheese to stand on.
8. Cut the top off the Camembert and place the wheel in the hole. Drizzle with more olive oil.
9. Bake for 25 min until the cheese is melted.
10. As soon as the focaccia comes out of the oven, drizzle with honey and sprinkle with sea salt. Serve immediately.
Discover our Petit Camembert 125 g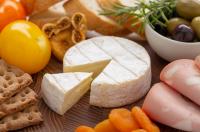 Ile de France Petit Camembert is a genuine soft cheese with the right taste whenever you buy it: stable, mild taste, soft and mild texture and the thinnest rind ever
Read more