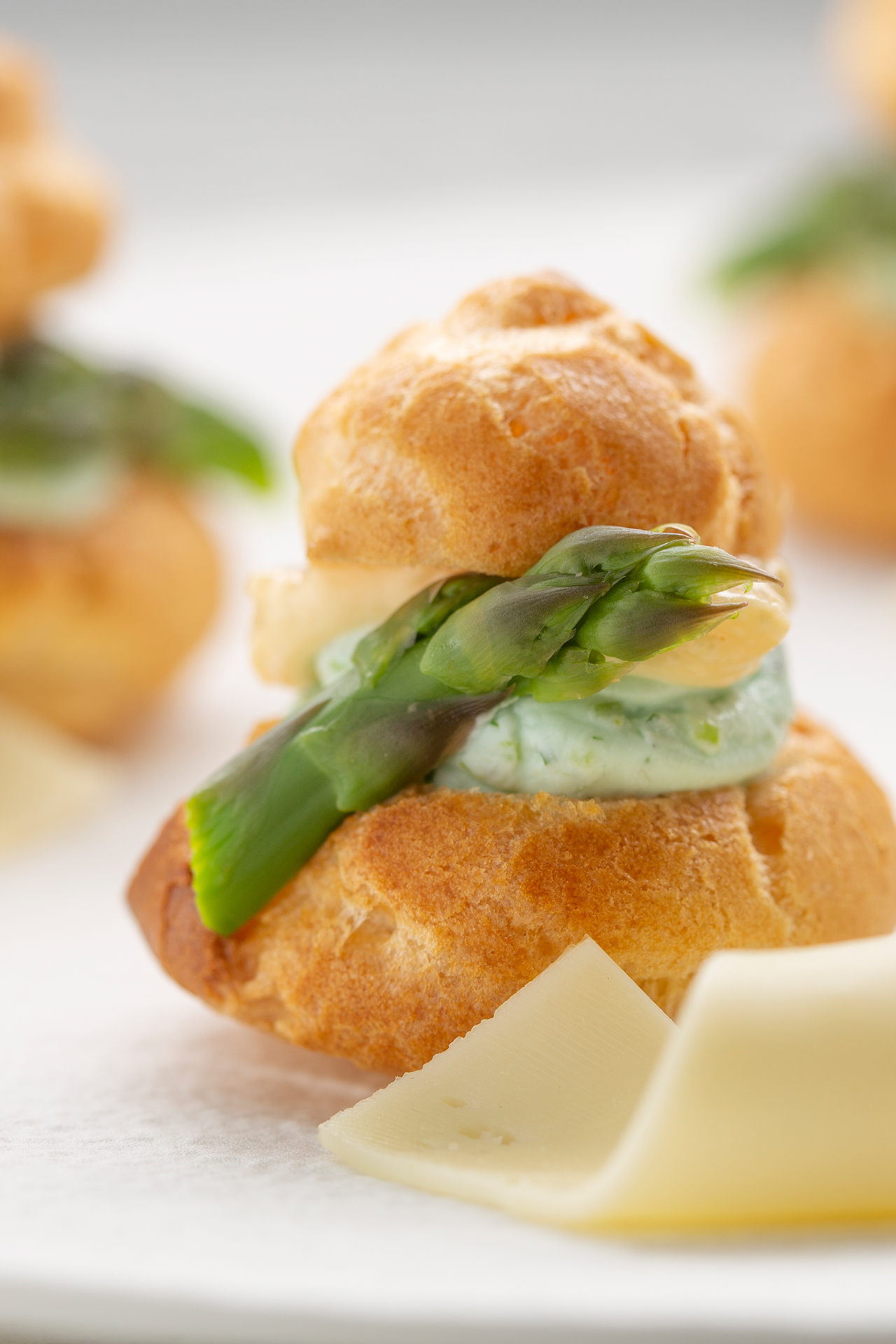 Ingredients:
100 g Ile de France Normantal Slices (3 ½ oz)
1 bunch of green asparagus
15 cl of liquid cream (10 tbsp.)
300 g mayonnaise (10 ½ oz)
1 drop of green food colouring
15 g gelatin (½ oz)
40 cl water (13 ½ fl oz)
Salt and pepper
For the Choux Pastry
100 cl milk (34 fl oz)
100 cl water (34 fl oz)
4 g sugar (1 tsp)
90 g butter (3 oz)
110 g flour (3 ¾ oz)
4 eggs
4 g salt (¾ tsp)
Preparation:
For the choux pastry:
1. Boil the milk, water, salt and sugar in a pan.
2. When boiled, put away from heat. Add sifted flour. Mix until you have a smooth, soft dough.
3. Put the pan back on the stove and mix until the dough peels off.
4. Put away from heat, add eggs one by one with a spatula.
5. Fill a piping bag with the dough. Pipe small and bigger choux on a non-adhesive baking tray. Use a fork to leave small marks on the choux.
6. Preheat the oven to 200 °C (400 °F).
7. Bake the choux for 15 min. Keep the oven door half-opened while baking. Once baked, let the choux dry slowly so the inside is well cooked.
For the Asparagus and Normantal Garnish:
1. Put the asparagus in boiling water with a pinch of salt. When cooked, put the asparagus in a big bowl of cold water for 1 min.
2. Mix the asparagus into a purée. Add the liquid cream, salt and pepper.
3. Finely cut the Normantal slices and add to the mixture.
4. Put gelatin sheets into water.
5. Warm up the mayonnaise in a pan, add gelatin and stir the mixture until the gelatin melts. Add the green food colouring.
6. Fill the asparagus and Normantal garnish into a piping bag. Fill the choux with the garnish.
7. Glaze the choux with the green mayonnaise.
8. Put each small choux on top of a big one and decorate with a tip of asparagus and a strip of Normantal
Discover our Normantal 150 g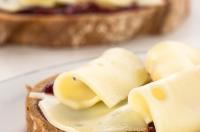 Ile de France slices are the only natural cheese slices made with fresh milk that will elevate any sandwich experience with their unique taste and texture combination.
Read more