Ingredients:
130 g cranberries (1 cup)
125 g Ile de France Petit Brie (4 ½ oz)
2 tbsp. granulated sugar
¼ cup honey
¼ cup pomegranate juice
Zest of 1 orange
1½ tbsp. olive oil
½ cup pecans
1 tbsp. chopped fresh rosemary
Flaky sea salt
Rosemary sprigs, for serving
Preparation:
1. Preheat the oven to 180 °C (350 °F).
2. In a small pot, combine the cranberries, sugar, honey, pomegranate juice, and orange zest. Simmer over medium heat and cook, stirring occasionally, until the cranberries burst and the mixture reduces slightly around 10-15 min.
3. Heat the olive oil in a medium skillet over medium heat. Add the pecans and toss to coat in the olive oil. Cook, stirring occasionally, until the pecans become fragrant, about 4 min. Add the rosemary to the skillet and cook for 30 sec. Remove the skillet from the heat and season the pecans with the salt.
4. Place the Petit Brie in a small oven-safe serving dish and bake until the cheese begins to soften, around 7-9 min.
5. Remove the Petit Brie from the oven and scoop the cranberry mixture on top. Sprinkle with the toasted pecans, garnish with the rosemary sprigs, and serve with whole-wheat crackers.
Discover our Petit Brie 125 g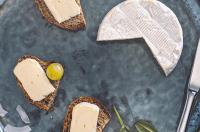 All the pleasure of a Brie in a 125g format. Ile de France Petit Brie has with the right taste whenever you buy it: stable, authentic yet mild Brie flavor and an extra creamy texture with a firm hea...
Read more