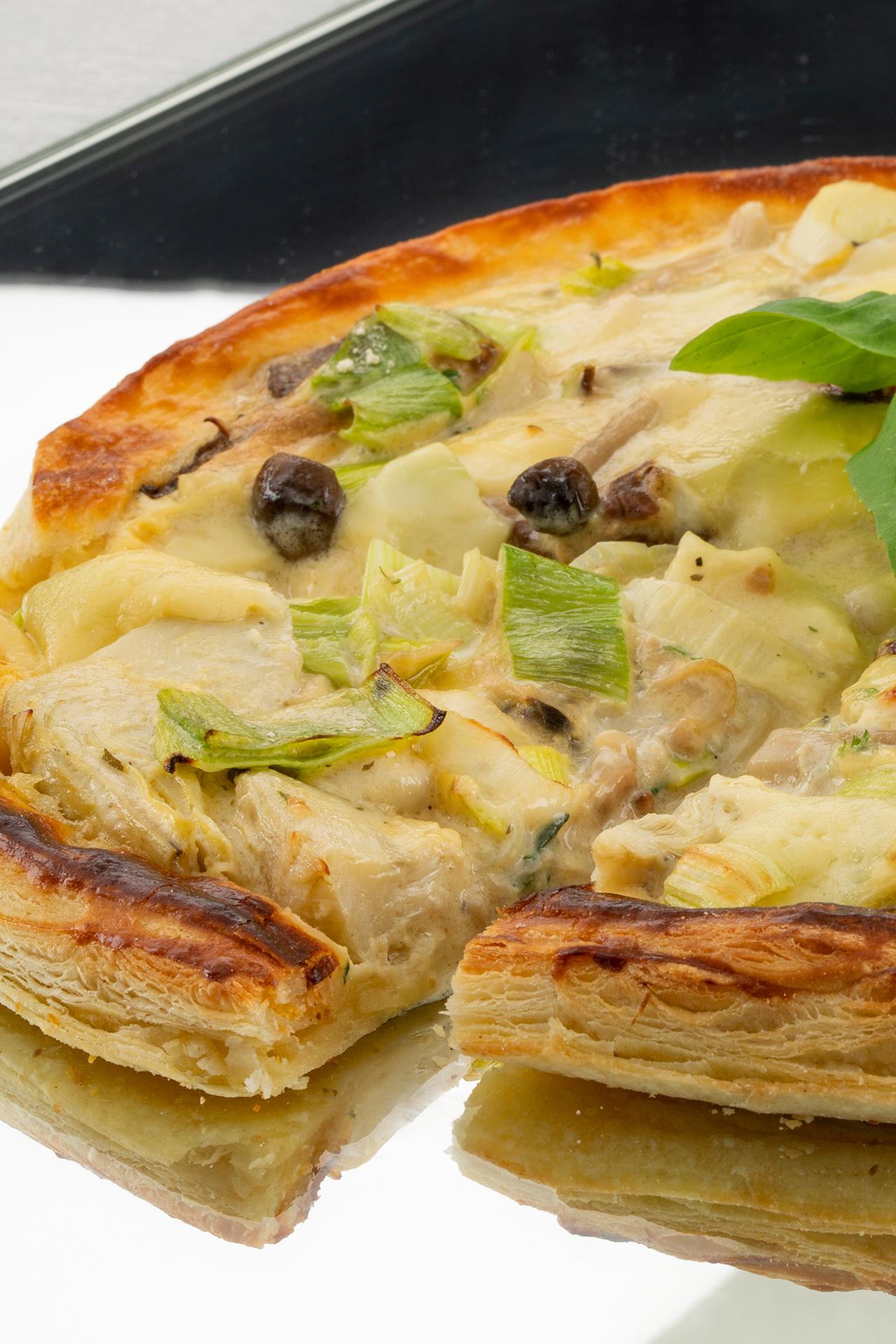 Ingredients:
-        100 g Ile de France Montaver Slices (3 ½ oz)
-        300 g puff pastry (10 ½ oz)
-        25 g butter (1 oz)
-        2 tbsp. olive oil
-        100 g mixed mushrooms (3 ½ oz), torn or sliced
-        2 leeks
-        150 g chargrilled artichoke hearts (5 oz), sliced
-        60 ml crème fraîche (4 tbsp)
-        1 large egg, lightly beaten, plus 1 yolk
-        Grated nutmeg
-        1 tsp. finely chopped sage plus 6 whole leaves 
Preparation:
1. Roll out the pastry on a sheet of non-stick baking paper, until it is about 0.5 cm (0.2 in) thick. Cut out a circle 30 cm (12 in) in diameter. Transfer the pastry to a baking-sheet. Score a 2.5 cm (1 in) border around the edge and prick the inside circle with a fork. Chill in the fridge.
2. Preheat the oven to 200 °C (400 °F). 
3. Melt half the butter and half the olive oil over high heat. Add the mushrooms and fry briskly, stirring occasionally, for a few minutes until golden with no liquid remaining. Tip out into a large bowl.
4. Reduce the heat. Melt the remaining butter in the pan and add the leeks and salt.
5. Cover the pan with a tightly fitting lid and leave to sweat for 10 to 15 min. Add to the mushrooms, with the artichokes and three quarters of the Montaver slices. Season lightly. 
6. Beat the crème fraîche, the beaten egg, the grated nutmeg and chopped sage and pour over the leek mixture.
7. Turn lightly to mix then spread over the pastry, leaving the border clear.
8. Scatter with the remaining Montaver slices. Brush the border with the egg yolk.
9. Coat the sage leaves with the remaining oil and press gently on top. 
10. Bake for 35 min, until golden brown and crisp.
Discover our Montaver 150 g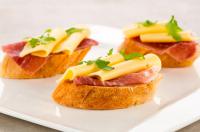 Ile de France slices are the only natural cheese slices made with fresh milk that will elevate any sandwich experience with their unique taste and texture combination.
Read more