"
Ingredients:
220 g ILE DE FRANCE® Chèvre
Various spices and seeds (aniseed, paprika, poppy seeds, golden or black sesame seeds, cumin, etc.)
Various herbs (chives, dried oregano, mint, basil, etc.)
Wood sticks
Preparation:
Makes 10 lollipops
Using a fork, roughly break up the goat's cheese in a bowl.
In the palm of your hand, roll balls of cheese (around 20 g each).
Then roll each goat's cheese ball in the spices, seeds or herbs of your choice, before
inserting a stick into each one. Arrange on a dish.
Keep cool until served.
Serving suggestion: these lollipops are ideal to serve with pre-dinner drinks.
Tip: use dry spices, seeds and herbs to ensure they stick to the cheese.
Discover our Chèvre 1kg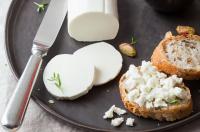 Ile de France Chèvre is a genuine traditional fresh goat cheese with a pleasant tanginess and a cream yet firm texture that enables a large variety of usages for all meals.
Read more