"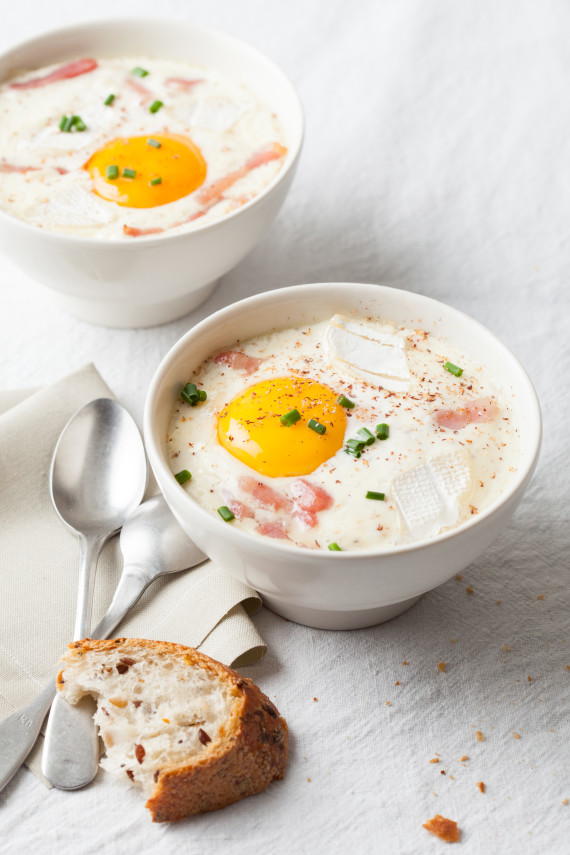 Ingredients:
4 eggs
50 g Ile de France Petit Brie (2 oz)
160 ml single cream (5 ½ fl oz)
80 g lardons (3 oz)
¼ tsp. nutmeg
Butter for greasing the ramekins
4 sprigs of chives
Salt & pepper
A little bread for serving
Preparation:
1. Cut the Petit Brie into small pieces.
2. Brown the lardons for 3-4 min in a frying pan.
3. Bring the cream to boil in a saucepan with the nutmeg. Simmer for 3-4 min, allowing the cream to thicken.
4. Preheat the oven to 190 °C (375 °F).
5. Use the butter to grease the ramekins.
6. Divide the cream between the ramekins, add the Petit Brie, a few lardons and an egg to each. Season.
7. Bake in the oven for 8-10 min.
8. Sprinkle with the chopped chives just before serving. Serve with bread.
Serving Suggestion: Enjoy at breakfast or as a starter, perhaps with a little Mesclun salad mix.
Tip: If you prefer, you can replace the lardons with button mushrooms fried in 15 g (½ oz) of butter for 5 min.
Discover our Mini Brie 125g (5x25g)
Ile de France Mini Brie is the creamiest natural mini cheese with an extra mild taste. Easy and clean to eat, compared to other creamy cheeses. It is ideal for indulgent mindful and wholesome snacki...
Read more